How Much Does a Home Renovation Cost?
Home renovation could be your preference over a new build for various reasons. It could be that you are looking to maintain the essence of your home or property that you are acquiring or if you want to preserve its architecture. Whatever your situation, our Infinite Windows team is here to help you achieve your home renovation aspirations.
We have vast experience in home renovation and can breathe new life into your home, leaving you warm, cosy and safe throughout the year. Before deciding to renovate your house, one of the key elements to consider is the overall home renovation cost. We are here to help you make the best decision for you and your home.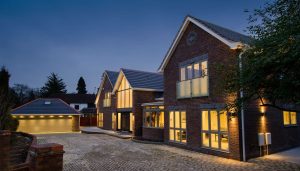 Thermally Efficient Windows & Doors
When it comes to replacing old windows, it is important to consider the energy efficiency that your new windows can add. At Infinite Windows, we recommend our homeowners choose triple glazed windows as they are the best in the market to improve thermal insulation. In order to reduce the reliance on your central heating, it is important to invest in high quality triple glazed windows that will trap the warm air inside, keeping your house naturally warm and comfortable. As a result, you can save money on your monthly energy bills.
As the cost of living and energy prices continue to rise in the UK, triple glazed windows are a worthwhile investment for your home renovation project. We offer a wide range of Internorm triple glazed windows that surpass Passivhaus standards. With U-values as low as 0.62 W/(m2K), our triple glazed windows take the thermal comfort of your home to the next level. Make sure that every corner of your home provides comfort and relaxation for you.
Whether you are looking for a modern style or keeping with the heritage appeal of your home, we can tailor the home renovation process according to your specifications. At Infinite Windows, we work with industry leading manufacturers, bringing you the most technologically advanced solutions. Our Internorm doors will enhance your home's kerb appeal and improve your home's security. Featuring excellent security hardware and high quality building materials, Internorm aluminium doors and timber aluminium doors can make for a perfect entrance to your home.
Our timber aluminium doors are expertly engineered with solid timber core and robust aluminium cladding. These high security profiles can achieve U-values as low as 0.58 W/(m2K), improving the thermal insulation of your home. Enjoy warmth and comfort all year round.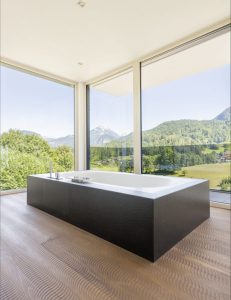 Low Maintenance Solutions
In order to avoid the cost of repair and maintenance, you can choose to install our low maintenance windows and doors. At Infinite Windows, we offer home improvement solutions that do not require your energy and valuable time to keep in shape and well maintained. Our aluminium profiles are weather resistant and do not require anything more than an occasional wipe down. Even with exposure to harsh weather conditions, these superb windows and doors will withstand whatever mother nature throws at them.
With our windows and doors, you can save on the future cost of repairs, repainting and varnishing, and your home renovation can last for decades. By selecting low maintenance products, you can save money for your future self.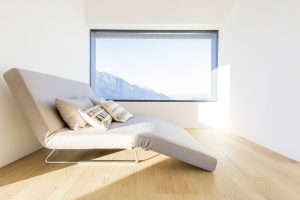 Home Renovation Cost Estimate by Infinite Windows
We understand that starting a home renovation project can be daunting; however, our expert team will walk you through each step and make the whole process smooth and easy. As part of our services, we will provide you with a cost estimate for your home renovation needs.
Head over to our online quoting engine and get your bespoke quote. You can call us on 01908 785366 or use our contact form to get in touch with us.
We would love to work on your dream home renovation project.
Categories: Benefits, Internorm Windows, Passivhaus Windows, Triple Glazing
Tags: energy efficiency, home renovation cost, Triple Glazing