What is Triple Glazing?
What is a Triple Glazed Window?
Triple glazing contains three separate panes of glass within one sealed frame. Within each pane is a pocket of air or an inert gas like argon which is heavier than air, working as an insulator for noise and heat. The third pane of glass is located between the inner and outer panes of double glazing, creating two airlocks and improving the energy performance by around 50%!
If you currently own double glazing, upgrading to triple glazing is easier than ever. It's important to choose the right glass and frame for your home; at Infinite Windows, we are proud to offer the best brands on the market – providing all properties with a triple glazed solution best suited to homes across the UK.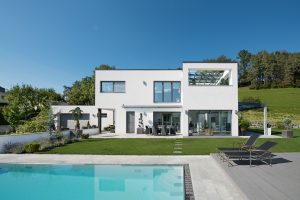 Is Triple Glazing Better than Double Glazing?
Comparing both double and triple glazing is done concerning their U-value. Manufacturers have coated and tinted glass to ensure that heat is kept in and unwanted sunlight away, reducing the glare with low maintenance features due to these qualities. U-values are significantly lower in triple glazing (the lower the U-value, the better).
Single Glazed windows can have U-values around 5.0W/m2K
Double Glazed windows can achieve around 1.4W/m2K
Triple Glazed windows can achieve an incredible 0.8W/m2K, passing Passivhaus standards.
Did you know that in the UK, only 2-3% of builds consist of triple glazing?
The UK government has released updates to the Part L Building Regulations, which explain how triple glazing might take over in the coming years. Currently, the U-values for windows are 1.4 and 1.2W/m2K. If the new Building Regulations are reduced to 1.0W/m2K in the next few years, double glazing will no longer meet these restrictions. Therefore, triple glazing could be inevitable for UK homes – with energy efficiency being more important than ever. It's wise to consider these potential changes. The changes to Part L have come into force from June 2022, and one of its main aims is pushing the building industry towards glazing.
In short, the energy efficiency of triple glazing exceeds the current double glazing standards, allowing homes to keep warm in the Winter and cooler in the Summer.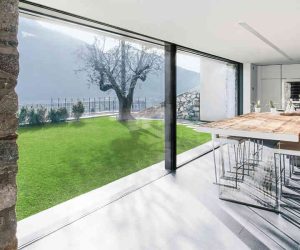 Benefits of Triple Glazing
Triple glazing has various benefits, usually identified by their overall comfort levels. Glazing prevents cold spots, draughts and condensation – giving your home the chance to breathe.
Below are a few reasons why triple glazing surpasses other glazing options along with benefitting homes across the UK.
Thermal Efficiency
Even though double glazing certainly does the job, it's important to note that triple glazing provides a comfortable temperature throughout the home, making latching onto the heat easier. You will begin to rely less on your central heating, as your windows will do the job for you. Save money on your energy bills every year with our incredible glazing options.
Noise Reduction
Double glazing achieves acoustic levels around Rw32, which can be dramatically improved by triple glazing – into the low 40s. Triple glazing can ensure that every night is a good night's sleep with sound struggling to enter your home. So, if you live in a busy area, never worry about the traffic again!
Less Risk of Condensation
Due to low U-values, triple glazing can minimise the risk of condensation issues as heat is kept in the building – stopping cold air from reacting with the hot air and preventing condensation.
Add Value to Property
Due to these incredible benefits, alongside the government pressing the urge for triple glazing to become more relevant, these windows are becoming more confident daily. Homeowners looking to sell should mention this as a selling point to potential buyers – as this is a huge energy efficient benefit.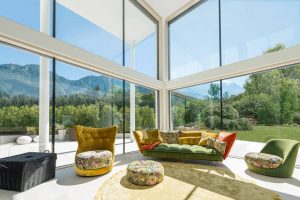 Infinite Windows – Our Glazing Options
At Infinite Windows, we are proud to supply and install Internorm's award winning triple glazed windows. With incredible benefits, our window range includes uPVC aluminium, timber aluminium and uPVC windows, which all include bespoke options. With U-values below,).8W/m2k, your home will likely be warm and cosy throughout the year.
Internorm tests our designs to ensure that each product continues to achieve the best performance on the market today.
If you are thinking of designing your dream property or upgrading an existing home, then triple glazing is the way to go. Grab your energy efficient solutions and save yourself money annually with our Internorm windows.
Discover more about our triple glazed windows and how Infinite can help you achieve the best energy-efficient home. Contact our team by filling out our online contact form or by calling us directly on 01908 785 366, and we are more than happy to answer any questions or queries – don't hesitate to get in touch today!
We look forward to speaking with you soon.
Categories: Benefits, Triple Glazing
Tags: Internorm, internorm windows, triple glazed windows, Triple Glazing, triple glazing near me