How Energy Efficient are Triple Glazed Windows?
Triple glazed windows are becoming more popular every year, especially from window suppliers. Although, there is an ongoing question of how energy efficient they are and are they more beneficial than double glazing?
Read below to discover why our triple glazed windows at Infinite Windows & Doors are so well received and recommended.
What is Triple Glazing?
Triple glazing consists of three panes of glass within a sealed frame like double glazing contains two. Between each glass pane is either a pocket of air or an inert gas like argon, a heavier and more dense substance that can work as an insulator for both noise and heat retention.
The third pane of glass creates two separate airlocks compared to double glazing, which only has one. Due to the extra pane comes a more energy efficient performance for your home. This difference can improve your home's efficiency by up to 50%! It's important to consider your glazing options whenever you want a window upgrade. You have the ultimate triple glazed window by combining the glass panes, the gas used, and a thermally efficient frame.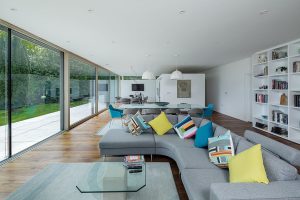 What's More Energy Efficient: Triple Glazing or Double Glazing?
Properties are becoming more energy efficient over the recent years as regulations have changed dramatically and energy costs are rising every day. Environmental factors can also affect homes' energy usage, so around 22% of the UK's greenhouse output comes from residential homes and central heating. At Infinite, we want to supply all our customers with a triple glazed window solution that helps to reduce the reliability of your heating requirements by making homes as thermally efficient as possible.
One of the key ways to compare double and triple glazed windows is through their U-value measurement:
–       Single glazed windows can have a U-value of around 5.0W/m2k
–       Double glazed windows can achieve between 3.0-1.3W/m2k (depending on the manufacturer). However, current building regulations insist that any window you install today should have a U-value of no higher than 1.6.
–       Triple glazed windows that are Passivhaus standard have a U-value of no more than 0.8.
Triple glazing is the most energy efficient out of each glazing profile. Using these incredible measurements means that triple glazed windows will lose around half of the heat of double glazed products. With increased thermal performance, our customers can be confident that they will be getting their money's worth and a long–term investment.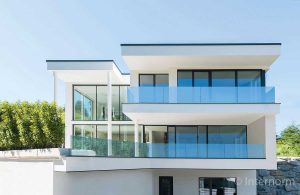 Triple Glazing Benefits
At Infinite, we are proud to supply and install Internorm's triple glazed windows. Internorm offers the very best energy saving features: security, sound reduction and thermally efficient performance. The Internorm window range includes uPVC windows, uPVC aluminium and timber aluminium bespoke options. With low U-values below 0.8W/m2k, your home is guaranteed to be warm throughout the year.
Other Triple Glazed Window Benefits:
–       Lower your energy bills
–       Add value to your property
–       Minimise condensation
–       Increase security measures
–       Reduce noise disturbance
–       Most energy efficient glazing option
–       Boasts low U-values
–       Better acoustic performance
–       Harder to break
–       Protection against potential break-ins
Your Triple Glazed Window Solution
Are you looking to upgrade your double glazed windows to a triple glazed solution? As the most energy efficient glazing option on the market, it's the perfect way to create a cosy, warm and comfortable temperature throughout the year.
With an extra pane of glass, your home can take advantage of so many benefits to reduce your energy bills and save you money in the long run. Your property will become more self-efficient, so what more could you want from your triple glazed windows?
Discover more about our triple glazed windows and how Infinite Windows & Doors can help you achieve the very best energy efficient home. Contact us today through our online contact form or call us directly on 01908 785 366.
Start your quote today!
Categories: Uncategorised