What are the Best Composite Windows?
What are the Best Composite Windows?
To determine the best composite windows, first, we need to understand what composite windows are. As the name suggests, composite windows are extremely high performing windows composed of a mixture of materials. Mainly, these windows combine the best elements of timber with aluminium cladding and uPVC frame with aluminium blended into the profile. 
At Infinite Windows, we offer a wide range of Internorm composite windows manufactured using advanced technology to provide unparalleled energy efficiency and security levels. The stunning designs and an extensive list of benefits make them stand out from all the different windows. 
Timber Aluminium Windows
We at Infinite Windows are proud to be an accredited supplier and installer of Internorm products, a market leading brand in the home improvement industry. The timber aluminium windows are a superb addition to any style of property. The core of these windows is solid timber, a natural thermal insulator, and the aluminium cladding makes it completely weather resistant.
Choosing a trusted brand for home improvement solutions is of utmost importance as your home is a place of comfort, relaxation and safety. A company like Internorm, established 91 years ago, brings years of manufacturing experience perfecting composite windows. 
Let's look at some of the key benefits timber aluminium windows provide so that our homeowners can access the value of their investment. Windows and doors are the targeted route for intruders, so ensuring they are secured and can withstand modern burglary attempts is the highest priority. Internorm timber aluminium composite windows integrate concealed locking mechanisms and match the RC2 standards of security.  
Another fantastic benefit of these composite windows is the exceptional thermal comfort they provide to any home. With many of these composite windows reaching U-values as low as 0.62W/(m2K), they will trap the heat inside naturally, allowing you to save up on electricity bills as the need to rely on heating devices reduces. Even amid the worst British weather, you can be certain of never catching a chill sitting next to your triple glazed timber aluminium windows. 
The sleek aluminium frame is designed to maximise the glass area for stunning views. These composite windows add a touch of elegance to any property style. They can be fully customised to complement each home's unique style and aesthetics, designed by experts and custom fitted into your home by certified installers. 

uPVC-Aluminium Windows
Our slim and sleek uPVC aluminium composite windows provide your home with thermal comfort, sound reduction, and security. uPVC is a weather resistant material like aluminium and is inherently robust and sturdy. Unlike hardwood frames, it does not absorb moisture and keeps your house protected from rain, draught, mould, and any leakage. With our expert installers, you get made to measure composite windows that will last you for decades to come. 
We bring you composite windows suitable for low energy homes with some variants reaching Passivhaus standards in the UK. You can witness a massive improvement in the heat retention with our uPVC aluminium windows that reach U-value as low as 0.62 W/(m2K). As energy costs continue to rise in the UK, making your home naturally warm and comfortable will help you reduce your heating bills. 
If your home is located in a busy area, our composite windows can make a significant impact in reducing noise pollution. You can choose triple glazed windows, which offer the benefit of being soundproof. At Infinite Windows, we offer high performing composite windows which allow our customers to enter zen mode right in their metropolitan homes.   

Passivhaus Windows
For homeowners with a futuristic outlook, we bring timber aluminium and uPVC aluminium composite windows that meet and exceed Passivhaus standards. You will receive a sleek, modern design that will keep you warm all year, helping you reduce your carbon footprint.
Passivhaus, developed in Germany in the 1990s, is quality assured standard and methodology for low energy building that can help create buildings that use approximately 75% less energy than standard practice for UK newbuild. 
We are proud to work with Internorm, which has become a new patron member of the UK Passivhaus Trust. At Infinite Windows, we want the absolute best for our customers and work with manufacturers who continue to invest in advanced technology to upgrade the efficiency of home improvement solutions. 
The best composite windows are the ones that suit your property requirements and enhance the aesthetics of your home. Our expert team at Infinite Windows can help you choose the right windows for your home.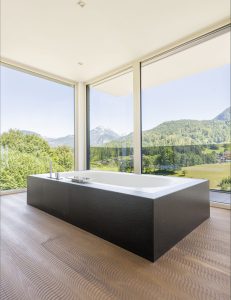 Infinite Windows Expert Installers
Explore our comprehensive range of Internorm composite windows, which will be brought to your doorstep by our expert installers. Our team ensures that they work around your schedule and provide a smooth home renovation experience. 
You can visit our state-of-the-art showroom in Milton Keynes or use our online quoting engine for a bespoke quote. As we believe in exceeding expectations in delivering simple, graceful and bespoke solutions for residential projects,  
We look forward to speaking with you soon!  
Categories: Benefits, Composite Windows, Internorm Windows, Passivhaus Windows, Triple Glazing